Sunset External Studies Moves into New Facilities
rcravy | August 6, 2008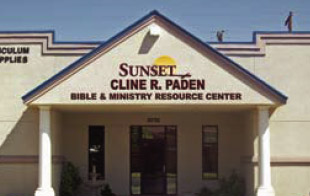 After being in existence for more than 34 years and occupying  several locations, the External Studies Division of the Sunset International Bible Institute finally has its own building! Through the forethought of Cline Paden, founder and first Director of Sunset International Bible Institute, and the generosity of our present Executive Director and other concerned people, we were able to purchase the building previously owned and occupied by Ted and Dot Stewart's BibleMart bookstore (originally called the Sunset Bookstore). For years the Stewarts served the school through their bookstore by making textbooks, Bibles and other study materials available to students of Sunset and the brotherhood. Because of health and other factors, they closed the store and retired. They wanted Sunset to have the building, and we are blessed to be able to purchase it, fulfilling their wishes and ours.
Truitt Adair, Executive Director, has graciously allowed the Sunset External Studies Division to occupy the building. In April we moved our entire inventory and staff into our new building. In honor of Cline Paden, the building has been designated the Cline R. Paden Bible and Ministry Resource Center.
Our intention and desire is to provide Bible study materials to all who want and need good, quality books and educational materials for both individual and group studies. Videos, DVD's, study guides, and many other books written by our instructors are available in our new facility. In addition to supplying materials for our residental students, we also supply materials used in our Satellite and Branch schools scattered throughout the U.S. and around the world.
These new facilities will enable to us to display our books and materials in a more attractive way. We believe that God will be glorified and honored by this enlarged ministry of supplying good Biblical materials to our brotherhood. Realizing that in many locations there is no place to purchase good biblical materials, we want to invite everyone to call on us to supply your needs. We are as close as your phone, or email, or you may access us on our web page: www.extensionschool.com.