Starting a School
Below we are providing a number of resources to help you learn more about starting and operating a Satellite School using curriculum from Sunset International Bible Institute External Studies. If you have any questions you are urged to call Jerry D. Pruitt at 800-687-2121 or 806-788-3282 (Monday-Thursday 9:00 – 5:00; Fridays 9:00 – 1:00).
Satellite School Handbook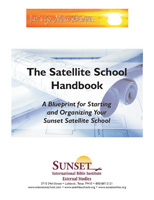 "A Blueprint for Starting and Organizing Your Satellite School"  Gives curriculum, costs, how to begin, levels of study, record-keeping requirements, and much more. Click here to download a copy.
Application Agreement
Schools which plan to be affiliated with Sunset should download and fill out this agreement form as part of beginning their school. Click here to download a copy.